INFOCUS M810 the Phone You Need to Know About
Infocus a US electronic company launced its flagship phone codenamed M810 recently in Taiwan.The Oregon-based company collaborated with Hon Hoi Precision Industry which assembles Apple products.
This phone packs a Qualcomm Snapdragon 801 chipset with 2.5GHZ clock-speed CPU and an aderno 330 GPU along with 2GB of RAM and 16GB ROM and even a micro-sd slot option in it.
The device boasts a 5.5 INCH IPS display with FHD resolution.And has a 13MP rear camera along with 5MP front one.The phone is equipped with LTE support and packs a 2,600mah battery.
This phone seems to have high end features and does not cost you much and is a tough competitor to the likes of Xiaomi OPO and Huawei latest flagships with a price tag of 333$.And is available in company's official website.
BlueAir Classic 680i Air Purifier Review
What are you breathing now a days? Oxygen or the air full of dirt. Its obviously the dirt lol. In India, air pollution is a very serious issue. Youre no more breathing Oxygen, its all chemicals out there! There are many health issues and various breathing problems caused by air pollution.
BlueAir is one of the best air purifier manufacturing company you can find in India. It has a lot of different types of air purifiers available for you to purchase! According to the BlueAir website, " Indoor air is up to five times more polluted than outside. Studies show that breathing clean air cancontribute to your health and well-being. Using a Blueair air purifier that removes airborne pollutants can go a long way towards helping you breathe healthier. "
The Blueair 680i is a huge air purifier with a very huge price tag. The air purifier is an ideal for large rooms like your living room, office meeting halls and other such places.
Why BlueAir Classic 680i?
The BlueAir Classic 680i has a flap on the front that opens to reveal a Wi-Fi link, fan speed, auto mode and other buttons. The BlueAir 680i uses the HEPASilent technology to purify the air youre breathing. The polluted air enters from one side and passes through the ionizer and a very reliable filter which forwards it to the fan and then to you! Time to change the filter? Dont worry, the purifier will indicate you when to change the filter.
According to the company, BlueAir Classic 680i air purifiers remove 99.97% of harmful particles from the air, down to 0.1 micron in size. THATS INDEED IMPRESSIVE!
The BlueAir app gives you all data from the device, along with AQI data for your locality.
The whole purifier can be controlled using the BlueAir app! You can compare the air quality inside your home vs the air quality outside. You can change between different mode the purifier offers. The device will do its best to get down the air pollution indoor.You can also schedule night mode and adjust the LED brightness.
You won't notice much of an increase in your electric bill as they wont eat much of your electricity. The device is said to get the PM2.5 to good levels within half an hour, which may differ on the room size too.
If youre thinking to get it for a small sized room, i'd prefer not to. The device is designed to be used only in large spaces and big rooms.
The BlueAir Classic 680i costs Rs. 78,999 in India. Yeah, its a huge amount but worth every penny of it. You may consider it as the best air purifier out in the market.
Best Tempered Glass for the OnePlus 5
Many people tend to skip the tempered glass and think only a proper case is enough. A case only protects the body of the device but not the display which is the most important part of the phone. Its better to use a tempered glass because obviously no one will like to use a phone with shattered display if you unfortunately drop you phone.
Have you recently bought the OnePlus 5 and wondering which tempered glass to get to keep your screen safe from dust and scratches? Lets have a look at the Best Tempered Glass for the OnePlus 5
Best Tempered Glass for the OnePlus 5
1. Original OnePlus 5 3D Tempered Glass
This is the official Tempered Glass from the company itself, and its always recommended to use official stuff for better performance. Being the best tempered glass available on the market obviously itll be a bit costlier.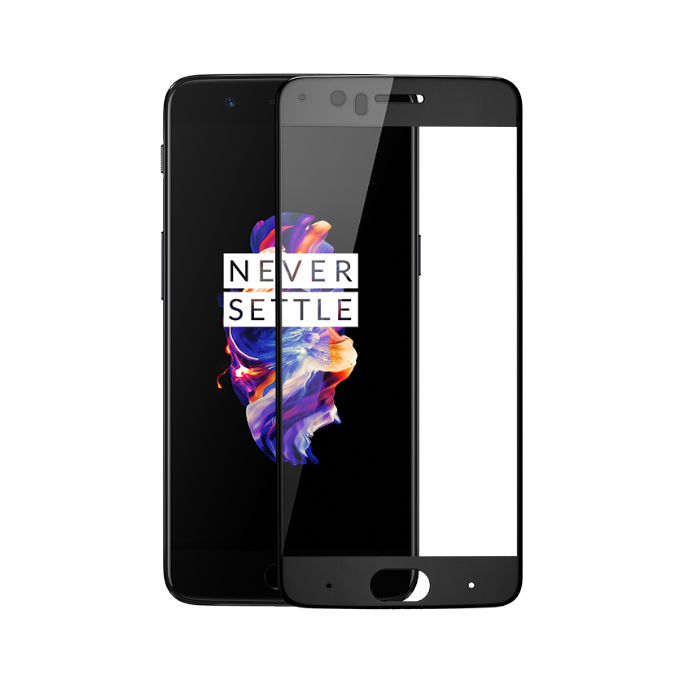 The OnePlus 5 3D Tempered Glass costs Rs.999 is only available on the Official OnePlus India Store. We highly recommend you to use this glass for better protection. The glass perfectly contours with the OnePlus 5's curved edges. Its hard enough and has anti-scratch material which prevents scratches and protects the screen from drop damage.
2. CaseU
 Tempered Glass Screen Protector
This one's almost similar to the Original OnePlus 5 3D Tempered Glass and cheaper too!
The CaseU Tempered Glass Screen Protector costs Rs.699 on Amazon.in You can consider this as a cheaper version of the Original OnePlus Tempered Glass.
3. Nillikin Tempered Glass for OnePlus 5
4. Orzly Tempered Glass for OnePlus 5
5. Others
There are a lot more options available online. People mainly buy tempered glass offline which are too cheap but at the same time they are made of cheap plastic which wont last long and will break easily. Though you can get good tempered glass offline from reputed stores and theyll cost almost the same as the online one's. Spending 30-40grands on a device and messing up the display just because of a cheap tempered glass isnt worth.
Custom ROM for Moto G 3rd Gen 2015 : PacMan
Moto G3 is one of the most affordable devices with great specifications that your money can buy. It comes with stock Android Lollipop 5.1.1, but some extra customization and features stay in the wishlist of the customers as always. Therefore, we are here talking about a themed version of CyanogenMod, based on the latest 5.1.1 Android by a recognized developer on XDA Developers named Shreps.
The name of the ROM is Pacman and you are free to flash it if you are owning a Moto G 2015 edition.
Note: Neither the developers, nor the authors at Technokick will be responsible if anything happens to your device during this process so try this at your own risk. Your warranty will also be void and all of your data will get erased in this process as well.
Before we go through the process of installing the ROM on the Moto G3, you will need to have a custom recovery installed on your device along with an unlocked bootloader
Steps to Install
Fresh Installation
Follow the following steps if you haven't installed this ROM and this is your first time reading this article
Download the ROM and the GApps Package ( Download links given below) The GApps package is optional but it is an important package if you want all of your Google Apps to be installed after the fresh install of the ROM
Turn Off your device
Hold "Volume Up+Power" button to boot into your custom recovery (TWRP is recommended)
Wipe your data or do a factory reset
Wipe System
Flash the ROM through TWRP
Flash the GApps Package through TWRP (optional)
Reboot your device (First boot takes a while. Don't panic)
Welcome to Pacman ROM! Enjoy 🙂
Update
Follow the following steps if you had read this article before and flashed the ROM but are updating to a newer version of the ROM (Your data will not be erased in this case)
Download the latest ROM Package
Turn Off your device
Hold "Volume Up+Power" button to boot into your custom recovery (TWRP is recommended)
Flash the recently downloaded ROM
Wipe both the dalvik cache and cache from the recovery
Reboot your deviice
Welcome to the latest version of Pacman ROM for Moto G 2015! Enjoy 🙂
Download Links
Extra Information regarding ROM
The ROM is based on Lollipop 5.1.1 with a Linux Kernel, and is based on Cyanogen. It is a dark themed ROM as well.
This slideshow requires JavaScript.